biographical note
Onorio Bravi was born in Portico e San Benedetto (Forlì-Cesena) on the 2nd of July, 1955. He now lives and works in San Zaccaria (Ravenna). His artistic production started in the second half of the 1970s when he participated in the project devised by the artist Giovanni Strada called "Trenica" (Derailing train and car paintings and installations, Castel San Pietro, Bologna).
He then graduated from the Ravenna Accademia di Belle Arti Ravenna, in Painting.
His interests have always been wide ranging: painting, sculpture, stage setting, mosaic and engraving, which he very assiduously practiced. He has produced more than 150 plates.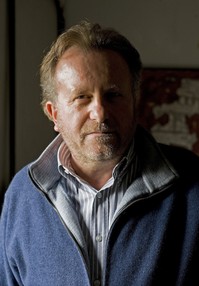 For several years he has been in charge of the allegoric float setting for the "Gruppo Carristi di Massa Forese", receiving much public recognition. In collaboration with the Municipality of Ravenna, delegations from San Pietro in Vincoli and Castiglione di Ravenna, in the 1990s he taught engraving and painting courses.
Some of his graphic artworks are on display in the Italian Engraver Library of the Ancient and Modern Print Exhibition Room "Le Cappuccine" at Bagnacavallo (RA) and in the Biblioteca Nacional in Madrid, Ministero De Educacion Y Cultura, Goya room.
A particularly significant time for his training was the period he spent in Algeria, during the first half of the 1980s, with the "ethnic" traces and Mediterranean basin influences which are apparent in his work.
He has been invited to display his production in numerous personal and collective exhibitions. His artworks feature in public and private collections in Italy and abroad.

translated by Cetra Congressi S.r.l.